December 15, 2016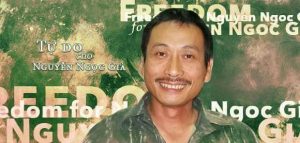 By Defend the Defenders, December 15, 2016
Political blogger Nguyen Dinh Ngoc, also known as Nguyen Ngoc Gia, who is serving his three-year imprisonment, has been tortured in Ho Chi Minh City's Chi Hoa Prison and his health has severely worsened, the local Dan Lam Bao newswire has reported.
It is reported that Mr. Ngoc was fettered two times which lasted one week each. The first fettering was imposed against him on July 17-24 after he demanded the prison's management to improve the conditions, and the second was carried out from August 9-16 as reprisals for his denunciation of violations committed by, and bribery of, prison staff, including Major Le Van Yen, Lieutenant Huynh Van Hoa and Senior Lieutenants Nguyen Van Em and Nguyen Quang Que.
During the punishment periods, Ngoc was held in a solitary cell on a dirty cement floor. The prison's authorities fed him with very little rice twice every day. The fettering was all day and night so he was forced to urinate in a pot placed near him. He was not allowed to wash his teeth or to take a shower during the entire periods.
His family was also prevented from sending him food supplements for two months.
Colonel Nguyen Hoang Tuan, chief of Chi Hoa Prison, instead of launching an investigation into the conduct of his staff after Ngoc 's denunciation, submitted a fake report to the Supreme People's Court saying the victim conducted activities against the state.
As the result of the prison's inhumane treatments, Ngoc is suffering from a number of diseases, including dizziness, stunned limbs, knee pain, scabies and constipation.
Such degrading treatment is not rare in Vietnam's prisons, especially against prisoners of conscience. In addition, prisoners have been forced to work without being paid and beaten by prison staff and criminal inmates.
Mr. Ngoc was sentenced to three years in prison and to an additional three years under house arrest by the Ho Chi Minh City People's Court on October 5 on charges of "anti-state propaganda" under Article 88 of the Penal Code for his online writing. For more information about him, you can read our website: https://vietnamhumanrightsdefenders.net/category/nguyen-dinh-ngoc-nguyen-ngoc-gia/
Conditions in Vietnam's prisons are very harsh, according to the New York-based Human Rights Watch, especially for political prisoners. Prisoners are subjected to torture and inhuman or degrading treatment as well as forced labor, many former prisoners of conscience said.
Amnesty International also documented torture and ill-treatment of prisoners of conscience in Vietnam in a report entitled "Prisons Within Prisons: Torture and ill-treatment of prisoners of conscience in Viet Nam." See: https://www.amnesty.org/en/documents/asa41/4187/2016/en/.