Open letter of Former Vietnamese Prisoners of Conscience to H.E. Mr. Jose-Manuel Barroso (on the occasion of the visit to Vietnam on Aug 25-26, 2014)
[themify_box style="blue download rounded" ]Trade relation between EU and Vietnam will exacerbate the dire situation of hundreds of prisoners of conscience currently detained in prisons across the country if the EU do not have sanctions and require the Vietnam government to improve human rights particularly. We look forward to hearing your voice, as well as of representatives of the EU. [/themify_box]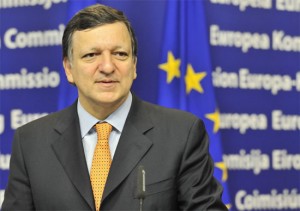 CTNLT | Aug 24, 2014
Translation by [rollinglinks]Trang Thien Long[/rollinglinks]
Tell the World (DTD)

Dear Sir Jose Manuel Barroso, EC President.
We are pleased to send a warm greeting to your official visit to Vietnam two days in Hanoi and Saigon.
Reportedly, you will discuss with PM. Nguyen Tan Dung on Free Trade Agreement (FTA), development cooperation among other issues. You also pay courtesy calls on Party General Secretary Nguyen Phu Trong and State President Truong Tan Sang same day.
Relating to the FTA between the EU and Vietnam, on Apr 17, 2014 the European Parliament adopted Resolution 2013/2989 (RSP) which emphasizes human rights, democracy and security are core values in the bilateral relation. The resolution also mentioned the rights of fundamental freedoms must be respected in Vietnam such as the freedom of speech, freedom of the media and religious freedom.
At the time you are coming to Vietnam, there are a lot of dissidents, prisoners of conscience, bloggers have been confiscated passports, banned foreign traveling. Even they were deprived of the right to travel freely in their country. In recent days, policemen have kept watching in front of the houses of nearly all dissidents. We were forbidden to attend the trial of Bui Thi Minh Hang and her two colleagues on Aug 26 in Dong Thap province. Mrs. Hang is a staunch woman in the struggle for freedom, democracy and human rights in Vietnam. The arrest and the trial are considered as a political motive: the silencing of dissidents.
Europe is the largest export market of Vietnam. Trade between Vietnam and the EU reached 21 billion euros in 2013. Thousands of companies, corporates of 28 European member states have business, production operation in Vietnam, creating plenty of jobs, helping improve living standards of labors. However, the decree prohibits people who have been imprisoned for "national security" working for foreign organizations such as non-governmental organizations, inter-governmental, non-profit, media agencies, diplomatic missions, etc., will take effect on Sep 15, 2014. This is a discrimination in employment law in order to continue the siege of livelihood of dissidents who had been jailed.
On Mar 28, 2014 Mr. Konstantin Von Mentzingen, international relation officer on Southeast Asian of European External Action service met two members of FVPoC, Pham Ba Hai and Pham Chi Dung in Saigon. Through this meeting, we have emphasized the right to freedom of association and peaceful assembly, and also asked the European Union to sponsor monthly meeting of the independent civil society organizations. But in the past two months, the government has used various forms to prohibit and impede the members of these CSOs.
Dear Mr. Barroso,
Given the situation one hand the Vietnam authorities courted Western countries, they always proved themselves self as a state respecting fundamental rights by covering up cases of human rights abuses; on the other hand they do not stop taking the legal instruments and police apparatus to crackdown freedom, democracy and human rights. We wish you to concern the current situation and at the same time to integrate human rights into the FTA negotiation as an essential condition.
Please do not let the human rights abuses as in the period of 2008 – 2012 happen again after Vietnam joined successfully in the World Trade Organization (WTO).
Trade relation between EU and Vietnam will exacerbate the dire situation of hundreds of prisoners of conscience currently detained in prisons across the country if the EU do not have sanctions and require the Vietnam government to improve human rights particularly.
We look forward to hearing your voice, as well as of representatives of the EU.
Vietnam, Aug 24, 2014.
Standing Steering Board of FVPoC:
Co-Chair: Dr.Nguyen Dan Que, Father Phan Van Loi
Chairman of Advisory Council: Ven.Thich Khong Tanh
Coordinator: Pham Ba Hai (MBE), Lawyer Nguyen Van Dai.
Spokesman: Pham Chi Dung (PhD)