HEAVY JAIL SENTENCES FOR THREE BLOGGERS AFTER SHAM TRIAL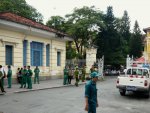 MONDAY 24 SEPTEMBER 2012 – Reporters Without Borders is outraged by the harsh and unjust jail sentences that a court imposed today on three bloggers on charges of anti-state propaganda at the end of a summary trial in southern Vietnam's Ho Chi Minh City.
Nguyen Van Hai (who used the blog name of Dieu Cay) was sentenced to 12 years in prison followed by five years of house arrest. Ta Phong Tan, a female blogger, was sentenced to 10 years in prison followed by five years of house arrest. And Phan Thanh Hai (known by the blog name of Anhbasg), the only one to plead guilty, got 4 years in prison followed by three years of house arrest. 
"I was never against the state, I was just frustrated by injustice, corruption and dictatorship, which does not represent the state but some individuals," Dieu Cay said. "Citizens have the right to freedom of speech," he added before the sound being transmitted to journalists and diplomats in a neighbouring room was cut.
"The authorities are trying to make a big impression and encourage self-censorship by imposing exemplary sentences," Reporters Without Borders said. "Dieu Cay and Ta Phong Tan have been given especially severe sentences compared with similar ones imposed in recent months.
"They are symptomatic of a nervousness and determination to crack down more than ever at a time of divisions within the regime and corruption cases involving senior officials including the prime minister – clearly embarrassing cases that were revealed by bloggers and citizen journalists."
Tense trial, relatives under close surveillance
Reporters Without Borders is also appalled by the government's continuing abusive treatment of the defendants' relatives, who have been the target of harassment and reprisals for months, to the point that Ta Phong Tan's mother committed suicide by setting herself on fire on 30 July in despair at her daughter's prosecution.
Police and security officials were deployed this morning to prevent certain people from attending the trial, especial Dieu Cay's family.
His daughter was prevented from leaving home, while his wife, Duong Thi Tan, was ordered to report to a police station at 7:30 a.m. in connection with an incident in Bac Lieu on 16 September when she, Ta Phong Tan's sister and the Catholic priest Anton Le Ngoc Thanh were arrested for allegedly causing a traffic accident by protesting on the street.
As Duong Thi Tan did not respond to the summons, she was seized outside the courtroom and was bundled into a public security truck along with two of Ta Phong Tan's relatives, Ta Khoi Phung and Ta Minh Tu, and several bloggers.
When Duong Thi Tan and her son, Nguyen Tri Dung, left the police station at 1:35 p.m., they were accosted by men in civilian dress – probably plain-clothes police – who grabbed and tore down the young man's shirt. They finally managed to get to the court but police prevented them from going in.
Sympathisers brandishing placards gathered outside the court in the hope of being allowed to attend the trial. They included the priest Thanh and the poet Bui Chat. The police checked the papers of several of the protesters and prevented them from approaching the court building.
Troublesome bloggers and dissidents
Dieu Cay and the other two bloggers tried today were convicted under article 88 of the criminal code. As they had not been brought to trial within the required period, prosecutors drew up a new indictment on 19 July but the new one was almost the same as the original one. The charges relate to political articles they posted on banned Vietnamese website "Free Journalists Club" as well as their postings on their own blogs.
Arrested on 19 April 2008, Dieu Cay was sentenced by a Ho Chi Minh City court on 10 September 2008 to two and a half years in prison on a trumped-up charge of tax fraud designed to silence a troublesome dissident.
He had written about the protests accompanying the Olympic torch relay prior to the 2008 Beijing Games and was arrested just before the torch was paraded through Ho Chi Minh City. He had been under close police surveillance since taking part in protests at the start of 2008 against China's claim to sovereignty over the Spratly and Paracel Islands.
He should have been freed on completing the sentence in October 2010, but new charges were brought against him. His trial was repeatedly postponed before finally being held today.
Phan Thanh Hai was arrested in October 2010 for allegedly posting false information in his blog, in which he wrote out Vietnam's territorial disputes with China, its bauxite mining and his fellow dissidents. Ta Phong Tan blogged about corruption and injustice in Vietnam.
Vietnam is on the Reporters Without Borders list of "Enemies of the Internet" and, after China and Iran, is the world's third biggest prison for bloggers and cyber-dissidents, with at least 19 netizens currently detained for expressing their views freely online.
Source: http://en.rsf.org/vietnam-heavy-jail-sentences-for-three-24-09-2012,43438.html
[subscribe2]