Support our Campaign: We Are All Vietnamese Bloggers!
Điếu Cày is a 60-year-old Vietnamese blogger. In 2007, he wrote the text published below. Four months later, he was arrested and convicted. In 2012 he was subsequently sentenced to 12 years in jail. Why? Because he wrote about freedom in Vietnam on his blog.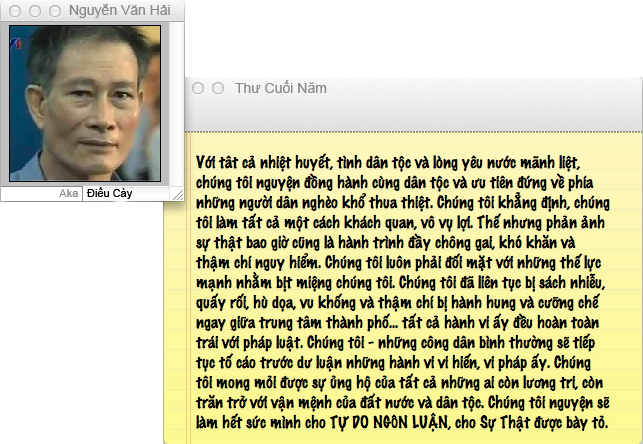 Traduction: With passion, patriotism and a will to serve our country, we vow to work alongside the people, especially those who are poorest and most in need. We are committed to objectivity and not motivated by profit. However, reflecting the truth is a difficult and often very dangerous task in Vietnam.
We are constantly confronted by forces bent on stifling our voices. We are regularly harassed, molested, threatened, slandered and even physically assaulted in broad daylight. Such treatment is illegal. As citizens of Vietnam, we pledge to denounce these anti-constitutional and unlawful deeds.
We appeal for the support of all those who have a conscience and who care about the destiny of their country and people. We promise to do our utmost to uphold freedom of expression and ensure that the truth is fully exposed.
Điếu Cày is not alone. Today, at least 32 Vietnamese bloggers have been sentenced or are awaiting trial for posting articles online that the regime deems "subversive". Most are detained under Article 88 of the Criminal Code on "anti-state propaganda" which carries prison terms of up to 20 years.
31 million people use the Internet in Vietnam, compared with 2 million in 2000. The authorities are actively promoting the Internet to support economic development and trade. But they are determined to control online content, and to crack down on all those who use the Internet to denounce corruption, social inequalities or the lack of freedom of expression.
This is the subject of a new report published by the FIDH and the Vietnam Committee on Human Rights, entitled "Bloggers and Netizens behind Bars". The report reveals the arsenal of legal restrictions devised by the regime to stifle any form of dissent. It describes the daily persecution, intimidation and judicial harassment faced by bloggers in Vietnam.
To denounce these repressive practices, on 19 February we will send a message to the Vietnamese authorities calling for the release of all bloggers in prison in Vietnam.
You too can support Vietnamese bloggers in jail. Inform your friends and contacts about their plight by:
– Joining the Thunderclap campaign (click here) – it's new, practical and easy to use
– Post Điếu Cày's text on your Facebook with a link to this page (click here to download it)
– On 19 February, tweet the message #Vietnam : #Vietnam : 32 bloggers behind bars : they need your support to get released! #freeVNbloggershttp://www.queme.net/bloggers-2013
The report is available at the following link: HERE