Prisoner of Conscience Tran Thi Nga Beaten, Given Death Threats While Serving 9-Year Imprisonment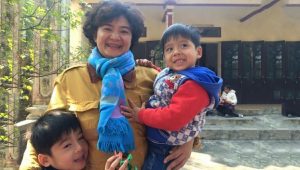 Defend the Defenders, August 18, 2018
Prisoner of conscience Tran Thi Nga  has been beaten and received death threat by a fellow inmate while serving her nine-year imprisonment in Gia Trung prison camp in the Central Highlands province of Gia Lai, her husband Phan Van Phong has informed Defend the Defenders.
Mr. Phong, who is a Hanoi-based activist taking care for their two kids, six and eight years of age, said Mrs. Nga telephoned him to report the assault against her carried out by a female inmate who was placed in the same cell with her.
The female inmate, considered the most aggressive woman in the prison, is continuously beating Nga and threatening to kill her.
Nga has complained of her situation to the prison's authorities who remain silent, she told her husband.
Nga said the harassment against her is part of the acts of prison authorities aiming to force her to confess her wrongdoings. Since being arrested in January 2017 and convicted in mid-2017, she has refused to deliver a false confession, saying she has done nothing wrong according to Vietnam's law and international human rights laws.
After being convicted in trails which fail to meet international standards for fair trials, prisoners of conscience have been transferred to prisons far from their houses.
In prisons, they have been treated inhumanely as prison authorities under the authorities of the Ministry of Public Security impose different methods to break their mental strength and make their lives more difficult, former prisoners of conscience and prisoners of conscience have said.
The methods include cell confinement, threats and torture by other inmates, forced labor, and poor-quality food as well as the denial of proper medical treatment. In 2016, the London-based NGO Amnesty International released its report titled "Prisons within Prisons: Torture and ill-treatment of prisoners of conscience in Viet Nam" described clearly how prisoners have been treated in prisons under the authority of the Ministry of Public Security.
Last month, prominent human rights defender Nguyen Ngoc Nhu Quynh, a well-known blogger under the penname of Mother Mushroom, conducted a long-lasting hunger strike to protest inhumane treatment while serving her ten-year imprisonment in Prison No. 5 in Yen Dinh district, Thanh Hoa province. She was also threatened by an inmate and provided with poor-quality food. She agreed to end the hunger strike after a representative of the US Embassy in Vietnam visited her and the prison authorities agreed to move her to an another cell.
Nga, who was arrested in late February 2017 and charged with "conducting anti-state propaganda" under Article 88 of the country's 1999 Penal Code, was sentenced to nine years in prison. She is among more than 100 prisoners of conscience in Vietnam.