Vietnam Leading Dissident Barred from Traveling to Australia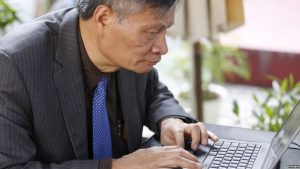 Defend the Defenders, September 18,
On September 18, Vietnam's authorities blocked leading dissident Dr. Nguyen Quang A from going to Australia because they want him not to go to Brussel to attend a human rights hearing in the European capital city scheduled on October 10.
Dr. A said he was stopped on his way from Hanoi to Saigon where he will take an international flight to Australia. Security officers took him to a police station in Noi Bai International Airport where they interrogated him about his travel plan and searched his baggage.
Dr. A told the officers that he has plan to return to the home country on October 5 and will go to Brussels from Hanoi four days later, however, police officers from the Ministry of Public Security still held him for aroud six hours before releasing him.
A said he still plans to go to Brussels on October 9 and if they block him, it will be a solid evidence of human rights abuse and the European Parliament would take into account the Vietnamese move for their voting decision.
This is the 20th international travel blockage of Vietnam's security forces against Dr. A since 2014, he noted.
More than 100 Vietnamese activists have been under international travel ban, according to Defend the Defenders' statistics.
Meanwhile, 32 members of the European Parliament issued a joint statement calling on Vietnam's government to improve the country's human rights record, and urge the parliament not to ratify the EU-Vietnam Free Trade Agreement in a vote scheduled in December.