Anti-corruption Activist Tran Dinh Sang Arrested, Charged with "Resisting On-duty State Officials" for Denouncing Bribered Trafic Police Officers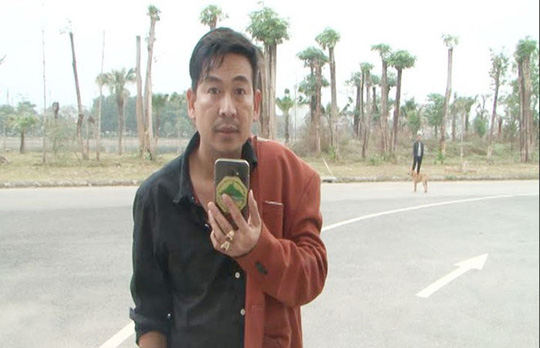 Defend the Defenders, April 10, 2019
Authorities in Vietnam's northern province of Yen Bai have arrested a local anti-corruption activist named Tran Dinh Sang and charged him with"Resisting a law enforcement officer in performance of his/her official duties" under Article 330 in the country's 2015 Penal Code.
According to the state media, police went to Mr. Sang's private residence in Yen Bai city in early morning of April 9 to detain him and searched his house. Police declared that Sang will be held in next three months for investigation for his activities on March 23.
The state media also said in the evening of March 23, when a patrol unit of the Yen Bai city's Mobile police was carrying out regular checking and imposing administrative fines on some violators, Sang stopped his car and filmed the police's activities. The two sides held quarrel as the policemen requested Sang to stop filming while Sang insisted that he has a right to observe and witness the police's activities as a citizen.
The police patrol unit reported that Sang tried to attack one of police officers, however, no solid evidence was shown by the police side.
According to Vietnam's 2015 Penal Code, Sang is facing imprisonment of between six months and seven years if is convicted.
Mr. Sang, 39, is one of Facebookers covering bribery of trafic police and activities against corruption related to the arbitrary placement of tollboothson national highwayson his account "Tran Dinh Sang and his friends."
A number of his fellows have been harassed and persecuted in recent months amid increasing public disatisfaction on systemic corruption, especially in trafic police forces, and the arbitrary placement of tensof tollboothson national highwaysacross the nation.
Last month, Ha Van Nam, one of the most active figures against the fee collection of wrongly-placed toll booths, was arrested and charged with "causing public disorders," two weeks after being kidnapped and brutally beaten by undercove policemen.
Vietnam's communist regime verbally encourages citizens to take part in anti-corruption campaign, however, numerous activists have been imprisoned or intimidated after denouncing state officials of taking bribery or stealing state properties. 

​Sang has been the 8th Vietnamese Facebooker being arrested and charged with criminal offenses so far this year, according to Defend the Defenders' statistics.