May 20, 2019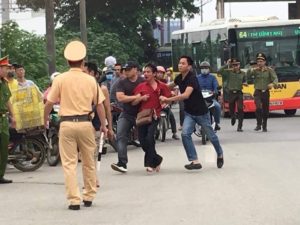 Police in Soc Son beat and arrested anti-corruption activists on May 11, 2019
Defend the Defenders, May 20. 2019
On May 20, police in Soc Son district, Hanoi, brutally beat Mrs. Dang Thi Hue and arrested her and five other drivers who came to Bac Thang Long-Noi Bai toll booth to protest its illegal collection of transport fee, Defend the Defenders has learned.
According to Nguyen Thi Thu Thuy (Facebooker Nguyễn Trần Công) who was in the scene and detained for short time, other detainees are Mr. Pham Nam Hai, Mr. Phan DucThang, Ms. Pham Thi Tiep, Mr. Manh Hung and a driver whose name is unknown.
Accordingly, in the Monday's morning, many drivers went to the toll booth to question the toll regarding its continuation of charging toll fees despite being denounced by the public for charging tolls illegally for ten years. Instead of negotiating with them, the toll station called for police who came to suppress the protesters.
At noon, being informed that Thuy had been detained, her husband and a younger sister named Nguyen Tho went to the station to ask for her and police also detained the two.
It is unclear what moves police in Soc Son district will carry out with the detainees. They may hold them for hours, impose administrative fines and release. In the worse case, the detainees may be charged with "disturbing public orders" with a maximum imprisonment of seven years.
This is the second persecution of the Soc Son district police against anti-corruption activists within ten days. On May 11, they also beat and arrested around 20 activists. One of them, Hoa, was beaten until he was bleeding. Other people detained were Facebooker Lien Tran, Trung Nguyen Mode, Bui Tien, Son Bui, Thai Van Hoa, Le Viet Duc, Le Ho Trung Hieu, Pham Dung, Duc Trung Nguyen, Le Hai Ha (Tuan Ha Dong), and Van and his wife (Thai Nguyen). After being detained at a police station of Soc Son District until 12:00 pm on May 12, 2019, they all had to pay an administrative fee of VND2.5 million ($108) for "disturbing normal activities of an organization."
There are around 90 toll-booths across Vietnam, dozens of which had been placed in wrong places as the investors want to collect more fees, including from drivers who are not using services offered by the investors. The investors in these toll booths are said to be backed by senior state officials.
There has been a campaign of activists to protest these booths since mid-2018, who have applied various measures to deal with such kind of corruption. They used small banknotes to pay in order to extend the time of payment, or just conduct boycott with their vehicles in toll booths to block the toll booths' activities. In some cases, they got success as the investors were forced to open their toll booths for free movement.
In order to deal with protesters, the investors are asking local police to suppress them or use thugs to attack them. Ha Van Nam was kidnapped and beaten in January before being arrested by Bac Ninh province's police on allegation of "disturbing public disorders" in early March.