May 27, 2013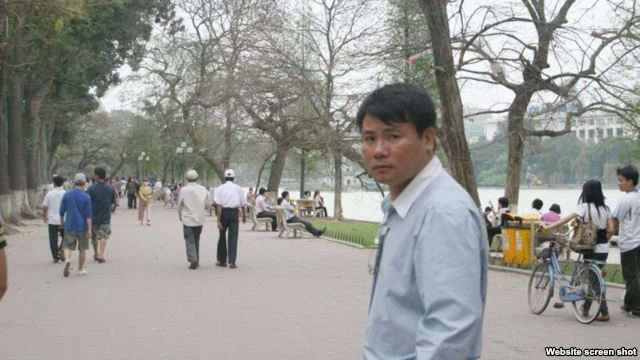 PUBLISHED ON MONDAY 27 MAY 2013.
Public security ministry officials yesterday arrested Truong Duy Nhat, one of Vietnam's most influential bloggers, at his home in the central city of Da Nang and escorted him by plane to Hanoi.
[pullquote]"Nhat's arrest is particularly disturbing as it shows that the government is bent on persecuting and jailing all dissidents, despite the many calls for the release of five bloggers when their appeals were heard last week," Reporters Without Borders said. "We call for Nhat's immediate and unconditional release and an end to this unjustified persecution."[/pullquote] 
Nhat was arrested on a charge of "abusing democratic freedoms in order to infringe upon the interests of the state, the legitimate rights and interests of organizations and/or citizens" under article 258 of the criminal code.
The link to his blog was disabled yesterday and, since then, any attempt to use it causes a malware download.
After working for two state-controlled newspapers for 11 years – Bao Cong An Quang Nam Da Nang (Quang Nam Da Nang Police Newspaper) and then Bao Dai Doan Ket (Great Solidarity Newspaper) – Nhat resigned in 2010 to devote himself to his blog.
Entitled "Another point of view," it covers a range of sensitive subjects and encourages debate. A recent post headlined "The General Secretary and Prime Minister must stand down" called for immediate economic, political and social reforms.
On 13 October 2012, Nhat posted an entry entitled "Writing after being investigated by the police three times," in which he commented on the various interrogation sessions to which he had been subjected.
He wrote: "I am neither a criminal nor a reactionary. There is nothing propagandistic or reactionary about the articles I post on 'Another point of view.' The police investigations, summonses and interrogations should be targeting reactionaries, anti-patriots and the interest groups gathering in banks, these insects who devour the people."
The entry added: "The handcuff and gun should not be used against bloggers such as Truong Duy Nhat, who sacrifice all their interests to outspoken blogs that are helping to change in the party and the people."
A total of 33 bloggers and netizens are currently detained in Vietnam. On 23 May, an appeal courtupheld sentences ranging from four to 13 years in prison for five bloggers – Ho Duc Hoa, Paulus Le Van Son, Nguyen Van Duyet, Thai Van Dung and Tran Minh Nhat.
Vietnam is ranked 172nd out of 179 countries in the 2013 Reporters Without Borders press freedom index.
Photo : voatiengviet.com
Source: http://en.rsf.org/vietnam-newly-detained-blogger-insisted-he-27-05-2013,44681.html
[subscribe2]