January 25, 2019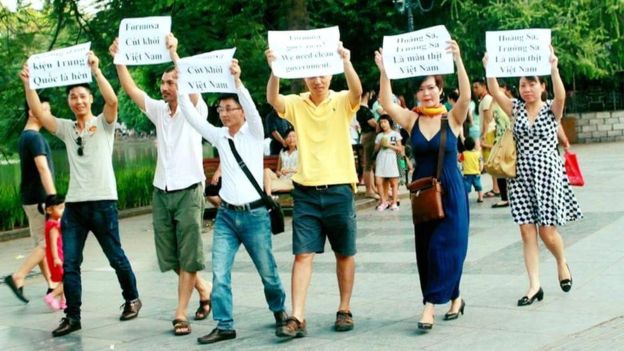 Defend the Defenders, January 25, 2019
Vietnam's security forces have expanded investigation against American citizen Michael Minh Phuong Nguyen on allegation of subversion under Article 109 of the country's 2015 Penal Code, Defend the Defenders has learned.
On January 24, police in Hanoi sent a summoning letter to a local activist Le My Hanh to request her to go to the Security Investigation Branch of the city's Police Department on January 29 for interrogation in the case.
Ms. Hanh, who has participated in peaceful demonstrations to protest China's violations of Vietnam's sovereignty in the East Sea (South China Sea), Hanoi's plan to chop down hundreds of aged trees in the city's center in 2015, and the Taiwanese Formosa which illegally discharged a large amount of industrial waste into the Vietnamese central coast and caused the catastrophic environmental pollution in 2016, met Mr. Michael Minh Phuong Nguyen in early July 2018 when he visited Hue City.
On July 6, Mr. Michael Minh Phuong Nguyen and his friends Huynh Duc Thanh Binh, Tran Long Phi and Thomas Bao returned in Saigon and they went missing.
On next day, police arrested Mr. Huynh Duc Thinh, a former political prisoner and the father of Binh, a member of the unregistered group Vietnamese Students for Human Rights which was established by imprisoned democracy activist Tran Hoang Phuc.
The families of the activists were told that they were arrested by security forces in Ho Chi Minh City and Binh was charged with subversion while the charges against others remain unknown.
Few days ago, the family of Mr. Thinh informed Defend the Defenders that he was released but placed under close surveillance. Others are still kept incommunicado in the temporary detention facility under the authority of HCM City's Police Department.
The arrests and detentions of the group is part of Vietnam's ongoing crackdown on local dissent. Last year, Vietnam arrested at least 27 activists and sentenced 41 human rights defenders to a total 310 years and nine months in prison and 69 years under house arrest.
Vietnam is holding around 250 prisoners of conscience, according to Defend the Defenders' statistics.